home
> sorority name tags & badges
Sorority Name Tags & Name Badges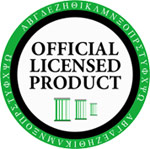 You will not find a more diverse selection of sorority name tags anywhere! Custom shapes, custom patterns, unique graphic designs you name it we have it! We work with you to develop and produce a sorority name tag that is unique to your specific group.
All of our custom shaped and custom color name tags are manufactured out of 1/16" plastic and are either engraved or imprinted with full color graphics. The plastic name tags are highly durable and will provide many years of use for your chapter members. Most sororities choose the magnetic backing for the attachment. This type of attachment eliminates the need for the wearer to punch a hole in their clothing. The magnetic backing is a bit more expensive but worth it. The pin backing is the standard fastener and is included at no additional charge.
If you want a really classy looking sorority name tag we offer our metal name tags. These look really nice with sorority crest or special emblems. The metal is .025 thick which is fairly light weight which wears nicely on most women's garments.
We are officially licensed to produce and sell name tags for most sororities. For certain sororities we have created unique pages displaying tags that we have produced especially for them. Please click on the image below to view more sorority name tag examples and information. Keep in mind if you do not see what you are looking for, we custom design sorority name tags everyday so most request are not a problem.
Standard Shapes
Quantity
1-24
25-49
50-99
100+
Pin Backing
$5.79
$5.24
$4.99
Call
Magnetic Backing
$6.79
$6.24
$5.99
Call
Custom Shapes
Quantity
1-24
25-49
50-99
100+
Pin Backing
$6.99
$5.99
$5.79
Call
Magnetic Backing
$7.99
$6.99
$6.79
Call
PRICING INCLUDES ANY NUMBER OF LINES – ANY SIZE – ANY COLOR
Easy Ordering
Click here



(888)754-8337
If you have any questions about our Sorority Name Tags, please contact us today.