Sigma Kappa Sorority Name Tags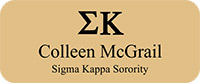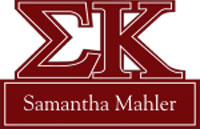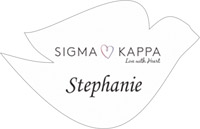 Why be boring? Why chose a simple plain sorority name tag when you can have a fantastic looking unique shape or design name tag for your Sigma Kappa chapter? We offer several stock designs and shapes that many Sigma Kappa chapters use for their name tags. Each tag is completely customizable to your specific taste. You may change the color, size, design, and name typestyle, whatever you need to fit your unique taste. This allows you to create unique name tags for your sorority that will make you stand out from the rest! But wait; if you need a totally custom design name tag for your sorority, you have come to the right place. We will work with you to formulate a design style that is uniquely your own – at no additional charge! It just doesn't get any better than that.
The easiest way to order your Sigma Kappa sorority name tags is to email us with what you want on the badges. You can have just names or names and titles on the badges. If you have a specific font you would like, include that information in the email. We will then send you a proof of all the badges and how they will appear. This allows you to double check all the names and spellings so you can be assured that your order is correct when you receive it. We keep all artwork and orders on file so adding new recruits or replacing lost name tags is never a problem.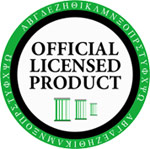 So give us a call today and get started on your way to receiving your custom designed Sigma Kappa sorority name tags. We are officially licensed to sell Sigma Kappa sorority name tags.
Standard Shapes
Quantity
1-24
25-49
50-99
100+
Pin Backing
$5.79
$5.24
$4.99
Call
Magnetic Backing
$6.79
$6.24
$5.99
Call
Custom Shapes
Quantity
1-24
25-49
50-99
100+
Pin Backing
$6.99
$5.99
$5.79
Call
Magnetic Backing
$7.99
$6.99
$6.79
Call
PRICING INCLUDES ANY NUMBER OF LINES – ANY SIZE – ANY COLOR
Easy Ordering
Click here



(888)754-8337
If you have any questions about our Sorority Name Tags, please contact us today.