home
>
creative name tags
Creative Name Tags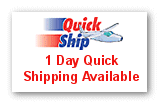 Being creative with name tag design is not that difficult. With today's modern printing capabilities and design software it is very easy to create bold beautiful creative designs. Creative name tags are produced from our various types of name tag products such as metal and plastic.
A metal name tag is composed of .025 thick metal and exhibits a brushed matte finish. This finish combined with full color digital printing creates a classy and beautiful badge that is different than a basic engraved name tag.
One of the advantages of our creative plastic name tags is that the plastic is easily shaped with custom designs with our laser or router. Unique shapes with full color printing definitely show that your company and staff are creative and unique. A great thing about the plastic is that you can order these badges in small quantities and reorders are never a problem.
It really is not hard to produce a creative name tag; all it takes is the right tools and thought process. We embrace modern technology and are not satisfied with designing name tags just like everyone else. We work closely with you to make sure we create a unique beautiful design that you will be proud to wear every day.
Price Includes - Any Size - Up to 3 Lines and Logo!





Quantity
1-24
25-49
50-99
100+
Price
Pin Back
$5.79
$5.24
$4.99
Call
Price
Magnetic Backing
$6.79
$6.24
$5.99
Call

10 pc. Minimum Order

LOGO SET UP FEES

–

New Logo/Shape $50

No Set Up Fees on Reorders

Price is per tag.

Easy Ordering Click here







(888)754-8337